MetalFox is the first sheet metal flattening layout software on PC, tablet and smartphone.
It is fully available online, without prior installation, on your web browser.
MetalFox is optimal for the following browsers: Google Chrome, Opera and Firefox.
It is also compatible with internet explorer (V11 or higher) and Edge.
However, we do not recommend the use of these browsers.
MetalFox is not compatible with Safari as it does not support 3D shapes.
The java-script module must be activated.
A – Keyboard shortcuts :
– The space bar as well as the "enter" keys on the keyboard update the Shape.
– Use the "tab" key to navigate between input fields.
B – Mouse commands :
– Left button held + move: Rotate the Shape
– Central button (thumbwheel) held + vertical sliding : Zoom in and zoom out
– Click on the central button (wheel): Extended zoom
– Right Click : Change the rendering (full / wired)
These commands must be entered with the mouse pointer in the area of the 3D shape.
Once logged, click on the Settings icon to:
A – Modify your working units: metric or imperial
B – Define the position of flattening layouts:
B1 – Shift the origin of the metal sheet.
B2 – Gap between the layouts (in case of multi parts).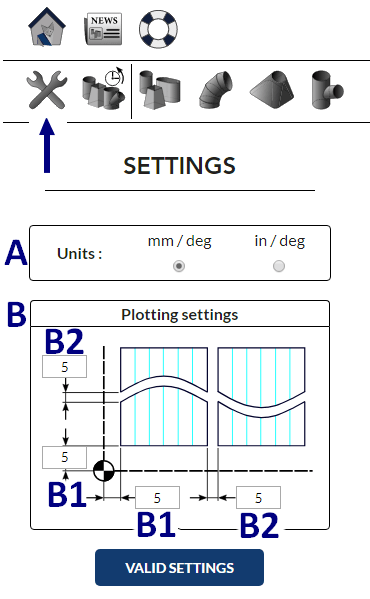 Once logged, click on the History icon to :
A – Search your previous jobs by keywords* (B) and/or by date (C).
* For example, you can search for all your parts in thickness 4 mm by filling "T4" in the search field.
D – Download your Dxf File again.
E – Send it to your e-mail adress.
F – Send it to the metal cut supplier you've provided in your customer area or any other contact of your choice.
G – Generate a new Dxf File starting from an old part and modifying only the dimensions you need*.
*If you only modify welding parameters, such as welding gap, number and position of welds, bend radius, segmented bends number of elements, MetalFox will consider that it is the same part and will not discount your subscription or permanent tokens to generate this new flattening file.
Likewise, you can change the number of press lines at your convenience, free of charge.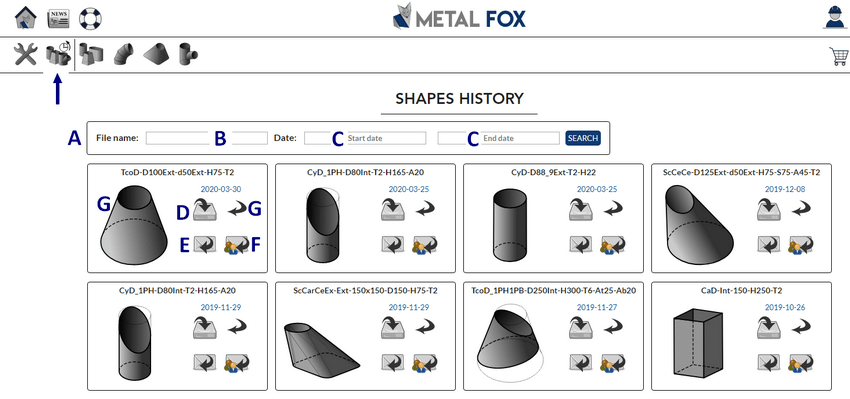 Each shape has control systems that check whether it is is mathematically feasible.
If not, a warning message will appear (A) and dimensions to modified will be framed in red (B).
MetalFox will prevent generation of the Dxt File until they have been correctly modified.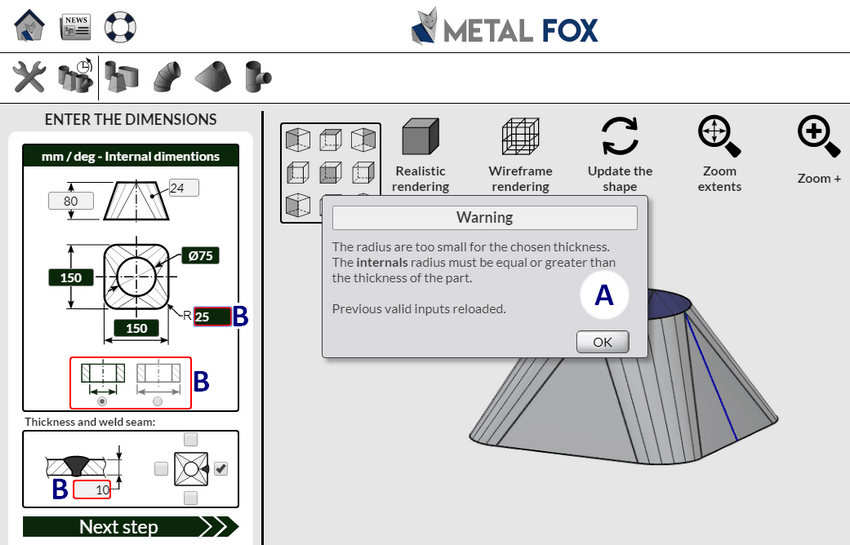 Right Cylinder, Top truncated
Round to Round - Offset & Angle
Round to Rectangle + offset
Oblong to Round - symetrical
Oblong to Oblong twisted by 90°
MetalFox Education - Full presentation
MetalFox Education - Add a groupe
MetalFox Education - Add a student
MetalFox Education - Generate an Exercice